Racial healing and pandemic resources
—ON RACISM: "Until white people call out white people, there will always be safe places for racial ugliness to brew and fester." —Father Bryan Massingale, S.J. (2020 June, NCR). —ON PANDEMIC: "Even when I cannot get out to join the community in prayer, God remains present, as Saint Augustine wrote, 'in my deepest interiority.' However lonely I feel, I am not alone, for at the core of my very being is Another." —Father Timothy Radcliffe, O.P. (2020 May, Commonweal)
Please note, though we are reviewing for overall quality, we are not specifically endorsing any products or services featured here, except those produced by TrueQuest Communications. Please review the content outlined below, and feel free to share any you deem appropriate with your parishioners during these unprecedented times.
Racism, racial injustice, and racial healing
Bishop Seitz's 2019 pastoral letter
Fr. Bryan Massingale, S.J. on "The asumptions of white privilege and what we can do about it"
Archbishop Gregory Discusses Racism & Faith at Georgetown University
Recommended reads: Cyprian Davis' History of Black Catholics in U.S. and Bryan Massigale's Racial Justice and the Catholic Church
Fr. Bryce Sibley of the Diocese of Lafayette, LA podcast on racism
Mass alternatives
Full of grace: Reclaiming the rosary
VIRTUAL WORSHIP IDEAS
Most Precious Blood Catholic Church (Denver) podcasts
We will add other links to virtual worship services worth emulating as we come across them. Please feel free to email links for our consideration.
Faith resources
Prayer
A user's guide on the ways to pray
Daily call to prayer
Make a call to daily prayer among parishionerss. Pick a time and a prayer, such as an Our Father each day at noon. Ring church bells to signal the call to prayer.
In Chicago, Cardinal Blase Cupich, is asking Catholic parishes to ring their church bells five times a day between 9 a.m. and 9 p.m. Each of the five prayer times will be dedicated to a specific group particularly affected by the pandemic:
9 a.m. – Prayer for those infected with the virus and all those who are ill
2 p.m. – Prayer for healthcare workers and those attending to the sick
3 p.m. – Prayer for first responders and essential workers
6 p.m. – Prayer for people of every nation and their leaders
9 p.m. – Prayer for those who have died today
---
As the world continues to reel from from the COVID-19 pandemic, Pope Francis called on all Christians to unite in prayer on March 25, the Feast of the Annunciation, to say an "Our Father" at noon. "Let us lift our voices toward heaven, and may the Lord listen," said the pope this past Sunday. "Let us make our closeness felt toward those persons who are the most alone and deprived." The editors of PREPARE THE WORD and Take Five for Faith joined in that prayer. We continue to pray for your safekeeping and all of our brothers and sisters across the globe.
Mental health
Inspiration
Stories That Could Be True:
The Roles of Gratitude and Poetry in the Spiritual Life
Program available May 23-30
Due to the extraordinary times we're living through, this retreat on gratitude is being offered as a virtual event. It's about poets and lepers and mystics and other essential workers in the story of faith. It's about you and me, about health and anxiety and unwelcome surprises. It's about poet William Stafford and mystic Thomas Merton and my mother and your family. It's about rediscovering how words and solitude come together to teach us something we already know about what it means to be human.
The five 45-minute pre-recorded series includes reflections on:
Poetry 101
Gratitude 101
Poetry Is an Inside Job
Gratitude When Life Hurts
Solitude and Gratitude
With Zoom sessions for sharing and discussion with the retreat leader. Please submit questions and comments to Alice at www.alicecamille.com. Alice Camille is a writer, religious educator, and retreat leader. Author of 20 books, including For Everything There Is a Season and This Transforming Word, Alice currently makes her home in New England. She takes God seriously, and religion with a sense of humor.
Contact: If you are interested in participating in this FREE online retreat, please contact the Oratory Center for Spirituality at oratorycenter@gmail.com. Once you are registered you will receive an invitation to the Zoom sessions and information on how to access the five-part retreat to do at your pace and on your schedule.
---
The church is open for business
It's perfectly understandable that some Catholics were perplexed by the closing of churches in a time of crisis. Why, when the need for religion's consolations was most acute, were the sacraments kept from us? Oh, but they've always been right here; just not the way we're accustomed to receiving them. I'm not talking about Mass on TV or YouTube, as helpful as those are for many. I'm talking about the sacramental encounters beyond the big Seven, the daily sacraments that the official Seven are intended to magnify for us.
Specifically, in this season of physical distancing, we can still do this: Bless with water. Admit our faults and seek forgiveness. Confirm each other's faith. Make commitments to spouse and family. Call each other to active service. Care for the sick. Share life-giving food and drink. These gracious activities are not lost during weeks when assemblies can't gather and priests can't physically stand in front of us and lead.
The world remains in need of sanctification, by means of our prayers and petitions. The Body of Christ is still blessed, broken, and shared in the many creative, tender, surprising ways we receive each other when the usual ways are impossible. All the Eucharists we've ever shared are meant to prepare us for the moment of challenge. The church is always open, wherever you and I are.
—Alice Camille, reprinted with permission from VISION VocationNetwork.org
---
"When this is over,
may we never again
take for granted
A handshake with a stranger
Full shelves at the store
Conversations with neighbors
A crowded theater
Friday night out
The taste of communion
A routine checkup
The school rush each morning
Coffee with a friend
The stadium roaring
Each deep breath
A boring Tuesday
Life itself.
When this ends
may we find
that we have become
more like the people
we wanted to be
we were called to be
we hoped to be
and may we stay
that way—better
for each other
because of the worst."
---
Pandemic
What if you thought of it
as Jews consider the Sabbath—
the most sacred of times?
Cease from travel.
Cease from buying and selling.
Give up, just for now, on trying to make the world different than it is.
Sing. Pray. Touch only those to whom you commit your life.
Center down.
And when your body has become still,
reach out with your heart.
Know that we are connected
in ways that are terrifying and beautiful.
(You could hardly deny it now.)
Know that our lives
are in one another's hands.
(Surely, that has come clear.)
Do not reach out your hands.
Reach out your heart.
Reach out your words.
Reach out all the tendrils
of compassion that move, invisibly,
where we cannot touch.
Promise this world your love—
for better or for worse,
in sickness and in health,
so long as we all shall live.
—Rev. Lynn Ungar
---
"This is the time to be slow,
Lie low to the wall
Until the bitter weather passes.

Try, as best you can, not to let
The wire brush of doubt
Scrape from your heart
All sense of yourself
And your hesitant light.

If you remain generous,
Time will come good;
And you will find your feet
Again on fresh pastures of promise,
Where the air will be kind
And blushed with beginning."
―John O'Donohue, To Bless the Space Between Us: A Book of Blessings
Just for fun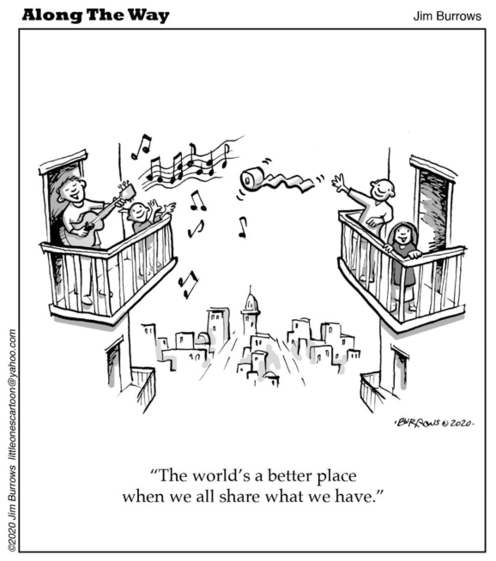 Deacon Jim Burrows, Diocese of Monterey, CA
Additional resources
Please feel free to email us links to other free resources for our consideration.